These days a lot of people send almost whole day in a front of computer. If you are one of them, you need the best computer chair for long hours. 
We reviewed a lot of chairs and picked only the best ones. Here is our list where you can find your own, new chair for long hours.
Best Computer Chair For Back Pain
If you have problems with your back Herman Miller Aeron is probably the best office chair from all!
1. Herman Miller Aeron Chair (PostureFit SL)
Herman Miller is one of the best office chair brands. If you've already done some research, you know these chairs are super popular and… very expensive. And you're probably wondering: "Which Herman Miller chair should I buy?". Here I will present you the features of Herman Miller Aeron Chair and show you why so many people with back problems have decided to buy this chair.
First of all, Aeron Chair is available in three sizes. Size A is designed for people up to 150 lbs and 5'4″. Size B works best for people from 150 to 230 pounds and from 5'5″to 6'2″. Size C is made for taller and heavier users: from 230 to 300 lbs and above 6'2″.
Quick Summary
This chair comes in three different sizes and offers multiple adjustments to support spine and help all-height people practice good posture. If you sit at the desk for many hours a day and struggle with back pain, this is the finest ergonomic office chair you can find on the market right now.
This brand knows that people of different height and weight have different needs, that's why they offer 3 sizes, so everyone could find the most suitable and comfortable chair.
Moreover there are 3 versions. The most "basic" one has S-shaped backrest and non-adjustable lumbar support. The second version features lumbar support that adjusts to user's lumbar curve – it slides up and down to fit people of different height and physique. It's an awesome office chair for people with lower back pain.
The third version, called PostureFit SL has a bit different backrest to support not only the lumbar spine, but also the base of the spine and help people maintain proper, health posture. We are reviewing this version in our ranking.
But no matter which version or size you choose, you can be sure you're getting top-quality ergonomic office chair, made of the best, durable materials. Each part of this chair is carefully and ingeniously designed – by Bill Stumpf and Don Chadwick.
The seat and the backrest are covered with patented new 8Z Pellicle woven suspension material which is not only very flexible and supportive, but also breathable, so your back and bottom stay cool and dry even during hot summer. The heat can go through the fabric therefore you maintain your natural skin temperature.
Moreover this fabric doesn't cause pressure on the body and it's good for blood circulation.
There are 3 versions of armrest: non-adjustable, height-adjustable and fully adjustable which go up and down, pivot from left to right and slide backward and forward (the PostureFit SL version that we recommend comes with 3D armrests – it's available here).
There is also something called "kinemat tilt mechanism" which makes this computer chair "follow" your body moves. The tilt is design to move along with you which allows for a natural recline motion. The tilt moves around human body natural pivot points: ankles, knees and hips.
Thanks to this feature your back is always well supported, whether you're sitting upright and working or leaning back and relaxing. Besides it helps to remove the tension and stress from your back, especially from the lower spine.
When you sit on an uncomfortable chair you constantly notice that and you're aware how painful it is. With this office chair you can forget about this issue. You will feel comfortable and nothing else.
Moreover, this chair is really well-balanced, so you can always feel stable, safe and comfy even when you rock back.
Herman Miller Aeron Chair offers huge adjustability: you can change the seat angle, recline the backrest and adjust the tilt tension, lower or raise the seat, move the lumbar support up and down or even flip it (depending on which side you prefer: more thick or thin).
With so many features, adjustments and stylish modern design, no wonder this is the best-known office chair for long hours.
Keep in mind that Herman Miller doesn't offer a headrest for Aeron, but you can find headrests made by other companies which are compatible which Aeron chair. It's a great accessory for those who struggle with neck and shoulder pain.
What other customers think about this office chair?
This is one of the most expensive office chairs (here you can find great & cheap Herman Miller Alternatives if your budget is smaller), so I just had to check it on Amazon and read customer reviews to find out if it's worth the money. It has less reviews than budget office chairs, nevertheless most of these reviews are positive.

Most customers praise its adjustability and the comfort it provides. Some people mention it has even helped them with backache or hip pain and now they can sit at the desk for many hours a day without any pain and soreness.

A few people say the multiple adjustments are a bit difficult to figure out, but you get used to them after a while. The mesh breathable backrest is a big advantage on hot summer, but it may a bit "cold" during winter.

Only a few people complain this chair hasn't been comfortable for them, however majority of buyers are satisfied with it. There is no ideal chair that would suit everyone. But Herman Miller Aeron is definitely very close to the ideal.

According to many customers Herman Miller Aeron Chair is an excellent investment for everyone who sits on a chair for many hours each day, has back problems or just want to avoid them in the future.
Pros
Cons

Great office chair for long hours, especially if you suffer for lower back pain

Comfortable even when you sit on it for many hours each day

Three sizes available – for short and tall people and everyone between that

Different versions of the backrest – for lumbar support and good posture

Breathable backrest keeps the user cool during summer

Amazing flexible fabric that provides enough support without any causing tension or pressure on your body
Best Ergonomic Computer Chair For Long Hours
Do you work for long hours? If so, you need to check the Steelcase Leap!
2. Steelcase Leap Task Chair
With so many innovative features Steelcase Leap is an exceptional ergonomic office chair for long hours of sitting and working at the desk. It's the perfect choice for people who suffer for back pain which limits their productivity and efficiency.
Steelcase Leap features Live Back technology which means the shape of the backrest changes to mimic your spine moves. It's a first chair with function of changing shape. Thanks to this feature your entire spine will be always well supported. It also helps you to maintain healthy posture and avoid back pain.
Quick Summary
4D armrests, backrest that mimics spine movement and fully adjustable seat make Steelcase Leap one of the most innovative computer chairs. No wonder this chair is so popular, despite its high price.
This computer chair has also 4D adjustable armrests. You can adjust the height, width and depth of the arms and pivot them inward and outward. Thanks to such a huge adjustability you will be able to find comfy and supportive position for your wrists, forearms and shoulders and remove the pressure on them. Whether you're typing or writing at your desk for many hours a day, with this chair you can forget about wrist fatigue or shoulder and neck pain. Each arm adjusts independently.
But that's not all adjustments that this chair offers. You can also change the chair height and seat depth (it slides forward and backward) to adjust it to your height and the shape of your body. Thanks to this feature you will be able to find proper position for your legs and keep your knees at a 90 degree angle and your feet flat on the floor.
Moreover there are flexible seat edges that follow your moves and allow to relieve the tension from your thighs. It's good for the blood pressure in legs and helps to avoid numbness and cramps.
There is also a possibility to move the lower back support more up or down and adjust its firmness.  You can choose how hard it feels when your lower back presses the chair. With this adjustment you can find the most comfortable and supportive position for your lower spine natural curve.
Pssst. You're not sure which chair is better: Herman Miller vs Steelcase? Check my comparison!
You can of course tilt back – there are 5 different positions and you can lock the backrest in any of them. So you can sit upright when you're working and lean back far when you want to rest and relax. You can also control the upper back force and choose the proper resistance that is best for you when you recline.
Steelcase Leap has also Natural Glide System technology. Briefly speaking the seat glides forward so you can recline comfortably and stay aligned with your work without straining your arms, neck and eyes. Thanks to this feature there is less static load on your spine.
Special foam and slats in the seat and backrest allow the air to circulate through and prevent the user for sweating and the chair from accumulating the heat.
What's also great about this computer chair is that it can hold a user up to 400 poundsstee without compromising its performance and quality.
Moreover there is a wide range of available color versions – you can purchase Steelcase Leap at dozens of colors! The price varies a bit for each version so make sure to check it before you make your purchase.
What other customers think about this office chair?
I checked this pricey chair on Amazon to find out what people who own it think about it.

Customers praise it for its ergonomic shape and good lumbar spine support. Some of them mention it has even helped them with back soreness and posture. Lots of people love the ability to adjust height, recline, armrests, lower back support position and its firmness.

Many customers uses this chair for couple hours a day and their shoulders and lumbar spine are fully relaxed. Some people use this chair not only for working, but also for playing video games.

Some users complain about the seat cushion softness and the amount of padding, but it's actually the matter of individual preferences.

Many people wonder what is so special about Steelcase Leap Chair. According to customers, when you consider how many innovative and unique features it has and how great lumbar support it provides even during long hours of sitting, it's actually worth the money.

Keep in mind, that you can find on Amazon refurbished Steelcase Leap Chair in a perfect condition with new fabric which is 2 or even 3 times cheaper! It's seems like a terrific deal for such an innovative and quality chair.
Do you want more details? Here you can find full Steelcase Leap review.
Pros
Cons

Comfortable

Helps with back pain and posture

Lots of adjustments

4D armrests which help to reduce wrist fatigue

Sturdy

Many colors available

Really cool & stylish look

High-quality

A bit scratchy fabric

Expensive
Top Modern Office Chair
Probably most futuristic chair you've ever seen: Herman Miller Sayl.
3. Herman Miller Sayl Task Chair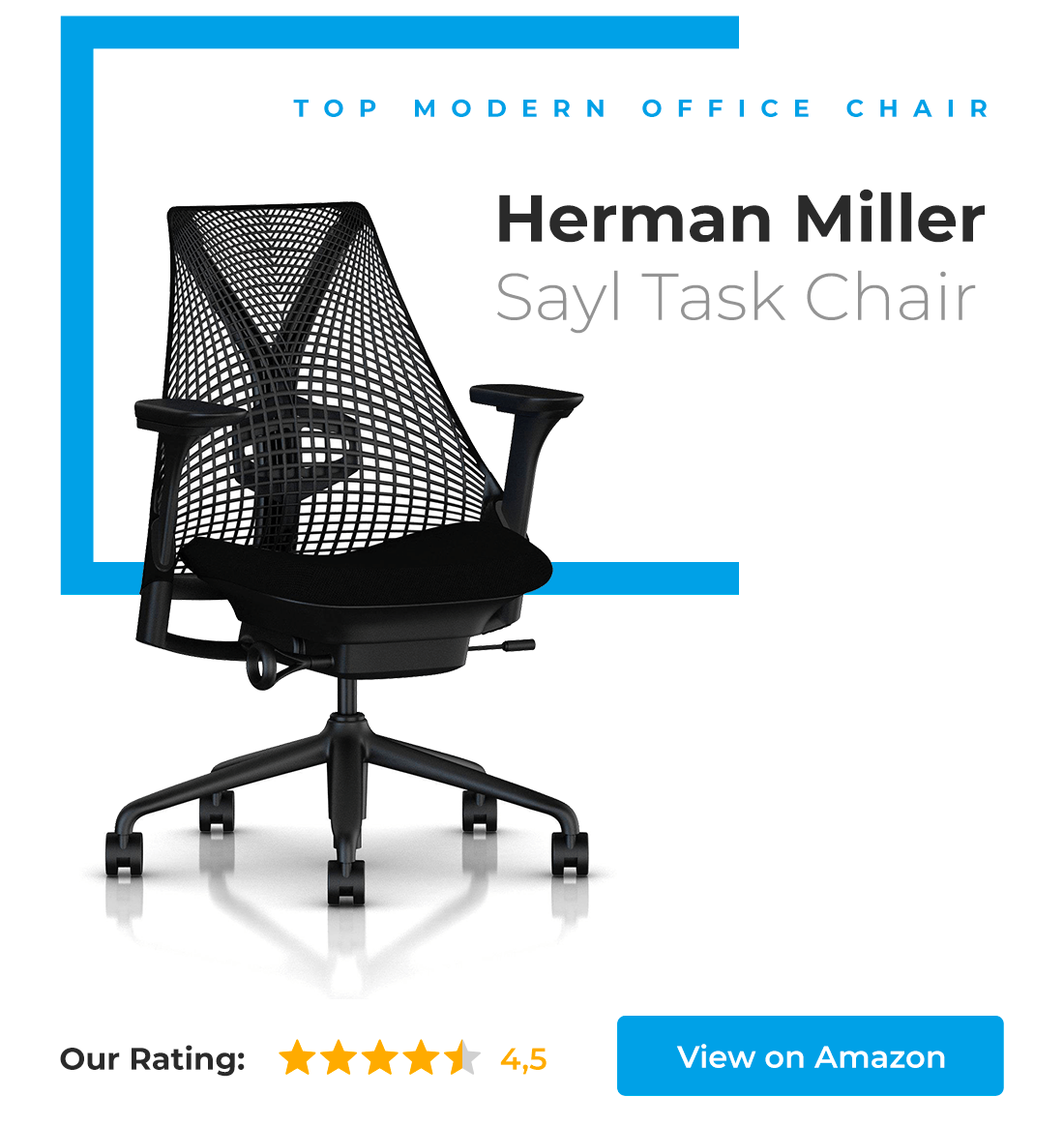 Let's start with this chair features and find out what is so special about it.
There is a 3D Intelligent suspension backrest which is flexible and adjusts to the user shape. Thanks to this feature this ergonomic chair can provide not only comfort, but also great support for many different body types.
Quick Summary
This high-end chair has not only fancy, modern appearance but it also adjusts to user's back to support his spine and help him maintain good posture. Each part of this ergonomic chair is thoughtfully designed to provide exceptional comfort.
Herman Miller Sayl, ingeniously designed by Yves Béhar doesn't have hard edges and actually doesn't have standard frame. There are two inventive features: the ArcSpan and the Y-Tower. The ArcSpan shapes the backrest and holds the suspension fabric. The Y-Tower is the backbone of the chair and it stretches the suspension fabric and provides support for the spine. Both these features make the Herman Miller Sayl a state-of-the-art chair.
Furthermore, Sayl is available in two versions: the basic one and more advanced one with multiple adjustments (and higher price)
The basic version has unadjustable seat depth set at 16″, unadjustable armrests set at 9.4″ above the seat and three tilt positions (91, 101 and 124 degrees). There is also standard backrest with built-in PostureFit which supports the coccyx and sacrum – the bottom portions of the spine. It helps to maintain good posture and keep the pelvis in a natural forward tilt.
The more advanced version of the Herman Miller Sayl Chair features adjustable seat depth – from 16″ to 18″. You can slide the seat forward or backward, depending on the length of your legs. This feature allows to find comfortable position for feet and knees. Moreover, when you adjust the depth correctly, your thighs will be fully supported without putting any pressure on the back of your knees.
This version of the Sayl Chair has not only 3 reclining position but also allows to adjust the seat angle from horizontal to 5-degree forward tilt. It's perfect solution for people who lean forward during working. Thanks to this feature their lumbar spine stays supported in this position.
Another feature is the adjustable lumbar support. You can raise it or lower it (there are about 4 inches of range) so it could properly support the natural curve of the lumbar spine.
There are also 4D adjustable armrests: you can change their height, width and depth and pivot them from left to right (about 11 degrees in each way).
If you'd ask me, I would definitely go for the version with multiple adjustments. This chair is pricey anyway (both versions) so I would prefer to spend "a few" dollars more to be able to fully adjust it to my body.
But no matter which version of Herman Miller Sayl you choose, you can be sure of one thing: it is chic and stylish. It looks so elegant it can serve you not only as an office chair, but you can also use it at your home – at the computer desk or at the table in your living room. Besides, you can match its appearance with your interior decoration by choosing one of many color versions. There is black, white or red backrest and over 20 colors for the seat cushion. Keep in mind that not all versions are available right now.
Moreover, Sayl is designed with environment in mind. This chair is in 93% recyclable! Therefore if the ecological responsibility is important to you, this actually may be the perfect computer office chair for you.
According to the manufacturer this chair combines everything that Herman Miller stands for: finest engineering, ergonomics, elegance and environmental awareness.
What other customers think about this office chair?
I was very curious what other users think about this modern and expensive chair. It has lots of positive reviews on Amazon, but there are also some drawbacks that customers complain about.

According to many users Herman Miller Sayl is very comfortable and has awesome unique look. Another advantage is breathable back which gives good amount of support at the same time.

Many people has been using it for 8 hours and more each day and it doesn't cause the back pain. Moreover it helps to keep the back straight and promotes proper blood circulation. Most people find it very comfy and supportive. Some customers mention that it has helped them with back problems.

Therefore this can be a great office chair for long hours and for people who have bad back.

Of course there are a few users that say this chair is not very comfortable – as always it's a matter of preferences and it depends on the body type.

There is one noteworthy feature – this chair is designed rather for shorter people and it will be definitely less comfy for tall person. The backrest is fairly short, it will support the upper back only if you're a petite person. If you're about 5'10" the top of the chair will reach your shoulder blades (more or less), which may be very annoying.

Nonetheless, this can be an excellent computer chair for short person.

Some customers also complain about the armrest durability and notice that standard wheels are not suitable for hardwood floors.
Pros
Cons

Comfy

Sturdy

Helps with back pain and promotes good posture – at least if you're a short person

Good for long hours of sitting

Airy backrest

Elegant, modern design

Many color versions

Less comfortable for people taller people (above 5'10" – more or less)

Doesn't support neck

You have to pay extra for the adjustments (like adjustable armrests, seat depth and lumbar support)
What Is The Best Computer Chair – Buying Guide
As you probably already know, there is no such thing as ideal chair that would suit every person. Why? Because we are all different, have different bodies and postures.
Just look at your spouse or colleague – does he/she has the same body shape like you do? I'm sure he/she doesn't. Even when two people are the same height or weight, they have different length of the torso, legs and arms, a bit different shape of back and shoulders (as a result of different postures, daily activity, genes etc.).
Besides, over the years we have to struggle with various disorders and health problems. Some of us suffer from pain in lower back, tailbone, upper back, hips, shoulders, neck or… just name it!
No wonder each of us needs a different chair to find the perfect "comfort zone" and proper support.
For my ranking of the best computer chairs of 2021 I have picked the bestselling and highly-rated models, which many people praise for helping them with back problems and posture. But of course it's impossible that one chair would be comfy and supportive for everyone, that's why I've chosen so many different models, with wide variety of features, adjustments and in a wide price range, so you could find a chair that suits not only your body type, but also your budget.
If you're still struggling and hesitating which office chair is right for you, here are the basic important information that you should pay attention to before you make your purchase.
Most important features of the best office chair:
Ergonomics
Nowadays people spend a lot of time in seated position while working at the desk or playing video games. It may have many negative consequences like higher risk of changes in body shape, back and neck pain, shoulders and wrists fatigue, which in turn may lead to permanent or difficult to cure injuries.
And here the modern, ergonomic chairs come with help. This type of office chairs may help with bad back and posture.
What it means the chair is ergonomic? Briefly speaking, its shape – the seat and backrest, is specially designed to provide proper position and support for the whole body. It helps to maintain good posture and feel comfortable. Some ergonomic chairs are also equipped with a headrest for better support for the neck and head.
Ergonomic office chairs are great not only for minimizing back problems, but they can also prevent the user from back, shoulder and neck pain. These chairs are designed with user's health and good posture in mind.
The best computer office chair has specially shaped backrest to properly support the lumbar, thoracic and cervical spine, as well as to keep the pelvis in the right position. Usually this type of chairs offers multiple adjustments which allow the user to find most comfortable and supportive position not only for the back, but also for wrists, forearms, shoulders, knees and feet.
Many people ask, what are the main benefits of using an ergonomic chair. First of all, properly chosen computer office chair will perfectly support your spine and allow you to be more productive and feel more comfortable during long hours of sitting and working.
Ergonomic desk chair may help you to reduce or even eliminate the pain in your lower and upper back, shoulders, neck and hips. It may also aid to decrease the risk of problems with back, blood circulation or disorders like sciatica.
Who should use the computer chair for long hours and who benefits from using it the most? To be honest, everyone who spends lots of time in seated position should get an ergonomic chair.
Whether you're an accountant, graphic designer, web developer, writer or salesman, you're probably spending at least 6 or 8 hours a day sitting at your desk, typing, writing and making calls. Maybe you're a gamer and you spend many hours in seated position during playing video games. Or you're a student and you use the computer for several hours each day. In each case the ergonomic office chair would be a great solution which could help you with bad posture or prevent you from back problems in the future.
Design And Materials
When you're searching for the best ergonomic office check for your back you should carefully consider how this chair is build and what materials and fabrics it is made of.
Let's start with the backrest. There are office chairs with mid-back and high-back. The former one is shorter and mainly supports the lumbar part of the spine. High-back provides also the upper back support.
The backrest should also have the S-shape and curved lower part to fit the natural curve of the lumbar spine.
Some chairs have also a headrest which gives additional neck support. It is a must-have for people who struggle with neck and shoulder pain or like to lean back their head while sitting.
Another important thing is the breathability of the backrest. The fabric should provide proper air circulation – which prevents the user's back from sweating. In this case the mesh cover is the best. The seat should be also airy and don't heat up – I would recommend mesh padding instead of leather one, which gets really hot and sticky on warm days.
One more important thing – the ergonomic office chairs vary in the thickness of the seat cushion. What would be comfortable and supportive for you actually depends on your preferences. But the seat should not be too thin and too thick because it could cause tailbone pain. The seat cushion should be firm, supportive and soft at the same time.
You should also pay attention to the base and wheel casters. The base should be strong and made of durable materials to hold (heavy) user securely and provide exceptional stability, even when the user tilts back.
And when it comes to casters we have a few types. There are casters made for carpet floor, for hardwood floor and rollerblade rubber casters that are suitable for many types of floor. Think for a while where you will use your chair and choose the proper casters. To protect the floor from scratches even better, many users recommend getting a chair mat.
Adjustability
Many modern office chairs offer huge adjustability. Usually the higher price, the more adjustments the chair has.
Chair height – the most basic adjustment is the height of the chair. Probably every modern ergonomic office chair features a lever that allows the user the lower or raise it. This feature is important, especially if the chair comes in one size as it allows to adjust its height to user height and find the comfortable position for knees and feet. Remember that the chair is set in proper height when you can comfortably put your feet flat on the floor and your knees are at a 90 degree angle.
Backrest recline – this is another typical function that probably every office chair has. Some ergonomic chairs offer few recline position and you can lock the backrest in any of them or lock it upright. Others allow you to rock back, but the backrest doesn't lock. Most chairs also allow the user to adjust the tilt tension and choose how difficult should be the backrest to recline. More high-end chairs, for example Herman Miller Sayl also offer forward tilt – for people who lean forward during working.
Seat depth – some models, especially the more expensive ones (like Embody chair by Herman Miller), allow to adjust the seat depth to user's legs length. Thanks to this feature, whether you have very short or very long legs, you will be able to find comfy and supportive position for your thighs, the back of your knees won't hurt you, you won't have problems with blood circulation or numbness in your legs.
Armrest – there are a few types of armrest that we can find on ergonomic office chairs. Some models (mainly the budget ones) feature non-adjustable armrest, which have fixed height. Some models have flip-up arms which allow to scoot the chair under the desk and save some space when the chair is not in use. However now most ergonomic chairs have at least height-adjustable arms.
There are a few adjustments that armrests can offer. You can move them:
Up & down (to adjust the height)

Inward and outward (to adjust the depth)

Forward and backward

Pivot them from left to right
The last two movements allow user to adjust the armrests to his arms' length and personal preferences when he is typing, writing or drawing.
Of course not every chair has 4D armrest with all of these adjustments. Some models have 3D arms with 3 out of 4 features, 2D arms with 2 adjustments or arms that can only slide up and down.
The more adjustable the armrests are, the better comfort they provide. Properly adjusted armrests relieve the pressure from the shoulders and neck and minimize the wrists fatigue. It's very important especially for people who spend a lot of time on typing.
Lumbar support – ergonomic office chairs have S-shaped backrest to support the lower back properly. Some models have even adjustable lumbar support therefore you can move it up and down or choose its thickness. Each person has different back, that's why adjustable lumbar support is so useful – it allows to adjust it to the natural curve of YOUR lumbar spine.
Headrest – some ergonomic office chairs with headrest allow to adjust its height or even the angle of inclination to support user's neck and head and reduce the pressure on shoulders and cervical spine.
Height Limit & Weight Capacity
Before you choose your ergonomic office chair, make sure to check the recommendation for height and weight. Choose the chair that is suitable for your size – it will ensure you'll get the best support and comfort.
Don't buy a chair if you exceed its weight capacity or height limit – it could be less stable and durable, and of course too small and uncomfortable for you. Make sure the seat bottom is not only wide and deep enough, but also the backrest is long enough to provide the good support for your back. You don't want a backrest that would dig into your shoulder blades or a seat that would hurt your thighs, right?
Price
Great computer chair come in a wide range of prices – you can find models that cost about $60 and $1500. You don't have to buy the most expensive chair to get a top-quality chair, but keep in mind that the low-budget models usually have less functions and adjustments.
Final Word
Choosing the best office chair in 2020 is not an easy task. But I hope that with this buying guide it's going to be easier for you. 14 great office chairs – I'm sure that one of them is going to be yours!
Article Score:
[Total votes:

3

, Average:

1

]